Small Soldiers: Squad Commander is a 1998 PC strategy game based on the film Small Soldiers. You control a squad of the heroic Gorgonites and the evil Commando Elite in objective-based scenarios. The gameplay is much like micro-managing in a typical RTS. It was published by Hasbro Interactive, but is also developed by DreamWorks Interactive.
All out warfare in a battle to save your neighborhood!
The game is set in a fictional "3-D cartoon-like" reality-city called, "New Bedford". The heroic Gorgonites and the evil Commando Elite awake in a large room on a chest. Chip Hazard criticizes Archer as weak and cowardly, pulls Archer's right arm off, and finally assaults him by using Archer's own right arm, right after Archer informs wisely to Chip Hazard and pushes away from him with the right arm. Archer steals it away and bows before Chip Hazard, jabbing the severed right arm toward Chip Hazard's chest, and hitting Chip Hazard's head with the right arm, thus plugging the right arm back into his right shoulder. After the incident both are still arguing but they suddenly both charge at each other, and crash; thus, the PC player must choose their campaign squad.
The main campaign for both the heroic Gorgonites and the evil Commando Elite, is trying to eliminate each other, until they reach the main Small Soldiers Industry, while they are destroying the town itself.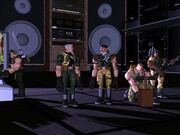 The evil Commando Elite's plan is to exterminate the isolated heroic Gorgonite scum: if the outcome is victory, the evil Commando Elite plan to exterminate Washington D.C., and build Commando Elite industries for their moment of glory in a new evil Commando Elite militarism planet.
The heroic Gorgonites' plan is the opposite: defend life forms, cherish freedom, and conservate a melting pot of ecosystems. If the outcome is victory, the heroic Gorgonites plan to change the evil Commando Elite from changing their micro-chips and uniforms into dainty behaviors and blouses from the Gwendy Doll chips, thus defending the planet and a melting pot of new wild animals in New Bedford.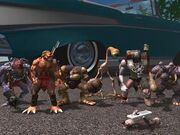 The players choose to control either the heroic Gorgonites or the evil Commando Elite in up to 20 challenging, nonlinear missions. The mission scenarios are new to the game but use the characters and environments from the film. Fun and intricate puzzles are layered within each mission, requiring players to use their wits and problem-solving skills under constant enemy fire and demolition.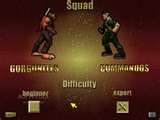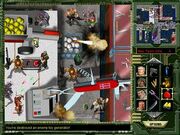 Players must defend their homes, local shops, and laboratories. Battles become increasingly more difficult and desperate as enemy reinforcements flock to aid their comrades.
The game features up gradable weapons, mines, bonus artillery, cloning, booby-traps, power gadgets, detailed graphics, dynamic music, and a kid-friendly design.
Campaigns
Edit
Each faction goes through five campaigns, each with a different number of missions ranging from 1-3.
Gorgonite Campaigns
Edit
Commando Elite Campaigns
Edit
External links
Edit